Nigerians Call For Justice Over Rape, Murder Of Job Seeking Lady, Iniobong Umoren In Uyo
Nigerians have called for justice on social media over the rape and death of Iniobong Umoren in Uyo.
Iniobong was confirmed dead on Sunday days after she was declared missing.
Her friend Umoh Uduak had taken to Twitter on Thursday, April 29 to raise an alarm over Iniobong's whereabouts after attending a job interview in the airport area of Uyo.
She disclosed that her friend sent her a voice note on WhatsApp screaming for help after arriving at her interview venue and since then she has not been found and her numbers were switched off.
"Y'all my friend @HinyHumoren is in trouble and she needs our help. I'm currently in Lagos and I can't help than to put this out there. Earlier today she told me she was going for a job interview at airport road which is quite far from her house," she tweeted.
To cut everything short, she sent me a 1sec audio record on WhatsApp and I had to call her back to know if she wanted to say something to me but immediately I called her I heard her screaming.😭😭😭😭😭😭😭
Someone, please help her out

— Happiness Activist (@UmohUduak1) April 29, 2021
This plea for help sparked reactions on Twitter and the identity of her abductor was unmasked as one Uduak Frank Akpan. A hashtag #FindHinnyUmoren had been started in the hope of finding her.
Findings also showed Iniobong had also put out a tweet asking for a job which showed Uduak had asked her to come to a certain location with her CV.
However, as soon as she was declared missing, the tweet was deleted which raised suspicions.
Frantic moves were made on social media by concerned Nigerians to find Iniobong.
Uduak however revealed the sad news of her friend's death in the early hours of Sunday.
She wrote: Friends, it is with a heavy heart I type to inform us that our friend, @HinyHumoren who was reported missing some days ago, has been found dead. She was murdered and buried in a shallow grave by her abductor, Uduak Frank Akpan. #RIPHinyHumoren."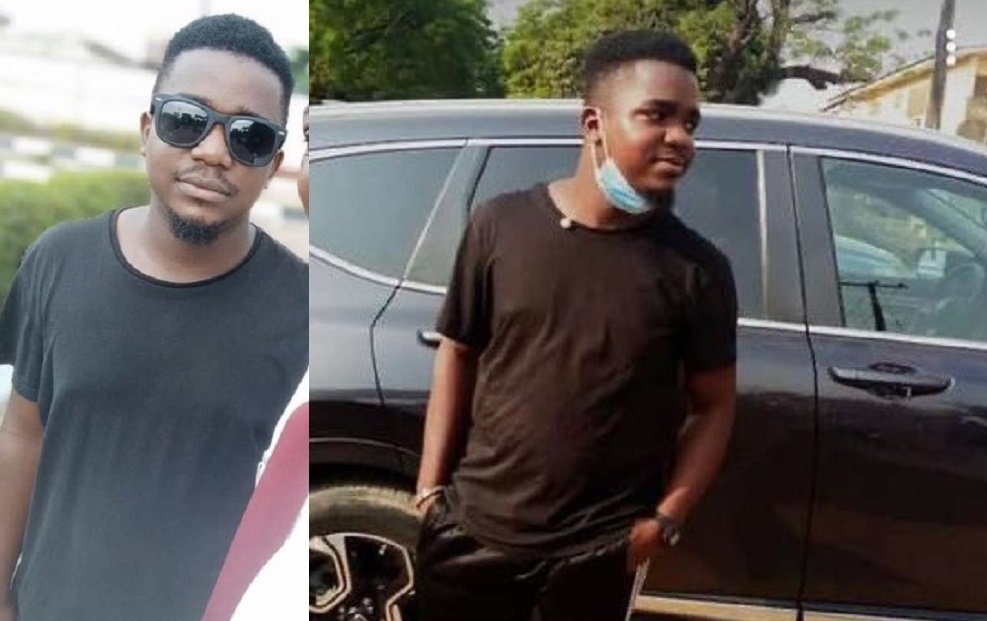 The killed my friend and they buried my friend😭💔💔😂

— Happiness Activist (@UmohUduak1) May 2, 2021
According to reports, after he was declared wanted by the Police, Uduak Frank Akpan initially ran to Oron to hide but he returned back to Uruan as pressure to find him mounted.
He was later captured with the help of his cousin and taken to the house of the Uruan LGA chairman, Surv. Iniobong Ekpeyong.
It was there that he confessed to killing Hinny Humoren and narrated how he buried her in a shallow grave. It was also learnt that Uduak's father and siblings are also involved in the dastardly act.
The Chairman had no choice but to hand him over to the Police to face justice.
Nigerians have since been reacting to the tragic incident.
Rest In Peace Iniobong Umoren. This is heartbreaking. I don't even know what to say. Have we lost all humanity? Jeez!!!
Bloody wicked world!!!

— DeboMacaroni (@mrmacaronii) May 2, 2021
This is so so heartbreaking .. Rest in Peace Iniobong Umoren 💔 My prayers are with your family and loved ones. May the full weight of justice be brought to the people who took your life 🕊

— Nengi Rebecca Hampson 👑 (@nengiofficial) May 2, 2021
I've been following the #FindHinyHumoren hashtag closely over the past couple of days and I am extremely devastated that young Miss Iniobong Umoren, who simply set out to find a job, was raped and murdered.

— Dr. Abubakar Bukola Saraki (@bukolasaraki) May 2, 2021
Just finished reading about
Iniobong Umoren death.

What's going on

— Uche Jombo Rodriguez (@uchejombo) May 2, 2021
Friends, it is with a heavy heart I type to inform us that our friend, @HinyHumoren who was reported missing some days ago, has been found dead.

She was murdered and buried in a shallow grave by her abductor, Uduak Frank Akpan.#RIPHinyHumoren pic.twitter.com/4thBCWCAIF

— Citizens Intelligence Agency (@Intel_PoolNg) May 2, 2021