Dora Akunyili's Daughter Is Definitely A Chip Off The Old Block And Here Is All The Proof You Need
We can say that Njideka Akunyili Crosby, daughter of Late NAFDAC boss Dora Akunyili, is gradually following her mother's footsteps with her recent feat of being awarded the Prestigious MacArthur Fellowship.
Enugu born Njideka who now lives in California was described by the foundation as "a figurative painter whose large-scale works express the hybridity characteristic of transnational experience through choices of subject matter, materials, and techniques.".
The MacArthur Fellowship, also referred to as the Genius Grant, awards $625,000 (about 225 million naira) to artists, writers, teachers, scientists, entrepreneurs, and people from all works of life who have shown exceptional creativity.
The grant is doled out in quarterly installments, made over a period of 5 years.
Here is a break down of Njideka Akunyili's life so far
Early Life
Njideka Akunyili Crosby was born in Enugu, Nigeria, in 1983.
Education
She completed her secondary school at Queen's College (QC) Yaba, Lagos in 1993. During her time at Queen's College, she served as a prefect and received a number of academic and leadership awards.
She graduated in 1999.
At the age of 16 she left Nigeria to study in the United States.
She earned a BA from Swarthmore College, Swarthmore, PA, a Post-Baccalaureate Certificate from Pennsylvania Academy of the Fine Arts, Philadelphia, PA, and an MFA from Yale University School of Art, New Haven, CT.
Family Life
She is married to Justin Crosby, a Texas born man who is also an artist. The two were both married in a church and a village wedding in Nigeria in 2009. They have a son called Jideora.
Career
Njideka's work addresses the move between Enugu, where she grew up, and America, where she now lives.
Akunyili Crosby creates vibrant paintings that weave together personal and cultural narratives drawn from her experience.
She uses an array of materials and techniques in each of her autobiographical works
Akunyili Crosby negotiates the cultural terrain between her adopted home in America and her native home in Nigeria, creating works that expose the challenges of occupying these two worlds.
Achievements
She has participated in artist residency programs at the Studio Museum in Harlem, the International Studio & Curatorial Program (ISCP), the Bronx Museum AIM, and the Marie Walsh Sharpe Space Program.
Her 2012 painting Drown, a technically innovative acrylic- and transfer-on-paper scene of embracing lovers, sold for $1.1 million at Sotheby's in 2016, a record for the artist at auction and more than three times the high estimate of $300,000.
Awards and Recognition
In 2011, Akunyili Crosby was an Artist in Residence at the Studio Museum.
In 2014, she was the recipient of the Smithsonian American Art Museum's James Dicke Contemporary Art Prize. In June 2016, she was awarded Prix Canson, an internationally-recognized prize for art on paper.
She won the 2015 Next Generation Prize by New Museum, an award for emerging artists and the Wein Prize from the Studio Museum, cited for her "great innovation and promise."
She was also recognized as the top of 10 black artists to celebrate in 2016.
In 2017, she was awarded the prestigious MacArthur Fellowship
See pictures of some of her works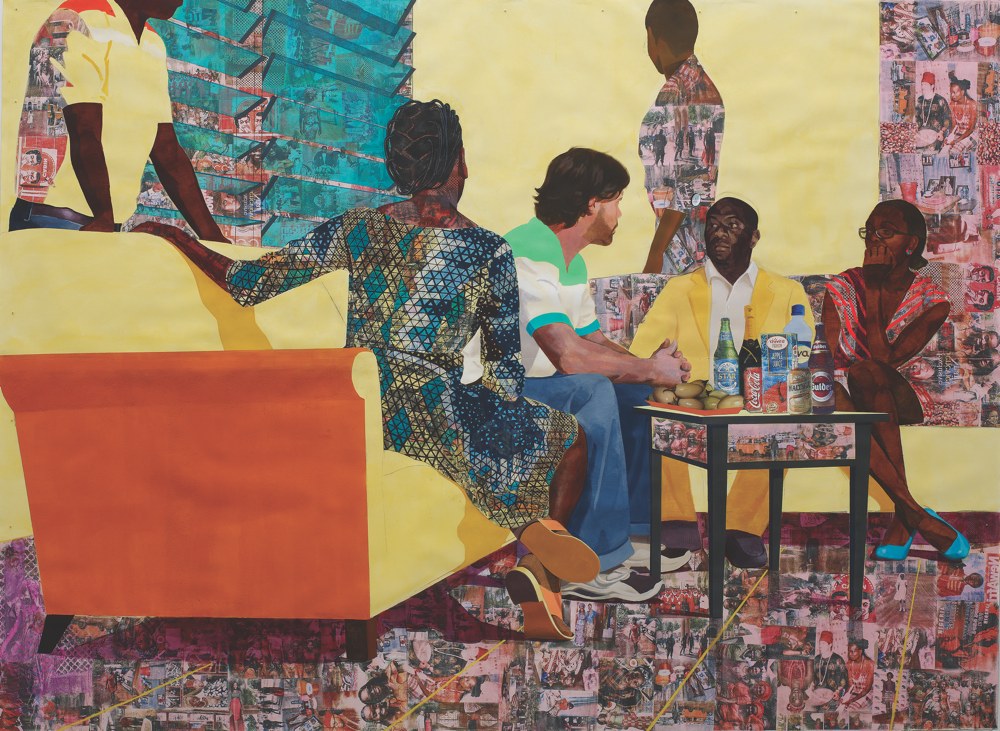 Watch Njideka discuss her speech here