A Biography On The Duchess Of Sussex, Meghan Markle As She Turns 38
Meghan Markle is an American actress, feminist and writer.
Before the news of her engagement/marriage to Prince Harry broke, Duchess of Sussex was accomplished and well-known in her career.
She turns 38 years today and here is a profile on her.
Let These Inspirational Quotes From Meghan Markle Motivate You
Early Life
Markle was born on August 4, 1981, in Los Angeles, California to a Caucasian father of Irish origin and an African-American mother. Her parents divorced when she was 6, and Meghan lived with her mom Doria Ragland, a yoga instructor, and social worker, after the separation.
Education
She was educated at private schools; first at Hollywood Little Red Schoolhouse and later at Immaculate Heart High School, an all-girl, private Catholic school in Los Angeles where she started campaigning for gender equality at an early age.
At age 11, Meghan was working on a homework assignment about commercials when she heard an Ivory dishwashing soap ad aimed solely at women. "I don't think it's right for kids to grow up thinking these things, that just mom does everything," she said at the time.
Encouraged by her dad, Meghan wrote to the most powerful people she could think of, including company representatives, Hillary Clinton, Gloria Allred, and Nick News anchor Linda Ellerbee. It worked: Procter & Gamble changed the slogan from "Women all over America" to "People all over America" a few days later.
"It was at that moment that I realized the magnitude of my actions," she later said. "I had created a small level of impact by standing up for equality."
At 15, she was volunteering in soup kitchens as her studies continued at a girls' Roman Catholic college, and she graduated from Northwestern University School of Communication, near Chicago where she ended up double-majoring in theater and international relations in 2003.
She graduated in 2003 from Northwestern University, near Chicago, where she took theater studies before completing her bachelor's degree in theater and international studies.
Career
A stint working as an intern at the US embassy in Argentina, Buenos Aires made Meghan think her path might lead her into politics, but she changed course when her acting career began to take off.
Between auditions, she was told of making money by doing calligraphy for wedding invitations, using skills developed in handwriting classes at school.
Her father, Thomas Markle, exposed Meghan to the movie and film world quite early. He worked as an Emmy award-winning lighting director was a cinematographer on the hit 1980s show Married… With Children.
Meghan's first television appearance in the US was in an episode of the medical drama General Hospital in 2002, before moving on to roles in CSI:NY, 90210, Without a Trace and Castle.
She had a stint as a 'briefcase girl' on the U.S. game show Deal or No Deal.
She also had leading roles in TV movies such as Get Him to the Greek, Remember Me and Horrible Bosses, however her most famous role was in Suits.
Meghan was in the show from its launch in 2011, but was written out in the finale of the seventh series after her character got married.
In 2014, she began writing about topics such as food, beauty, fashion and travel, as well as her own story, on her lifestyle website The Tig which she closed in April 2017.
Markle was a counsellor for international charity One Young World, speaking at the 2014 annual summit in Dublin on the topics of gender equality and modern-day slavery.
Her commitment to gender equality has seen her work with the United Nations, and she received a standing ovation from an audience including UN Secretary-General Ban Ki-moon for a stirring speech on International Women's Day 2015.
In 2016, the 'Time' magazine included her in its list of "100 Most Influential People in the World".
Markle became a global ambassador for World Vision Canada, traveling to Rwanda for the Clean Water Campaign in 2016.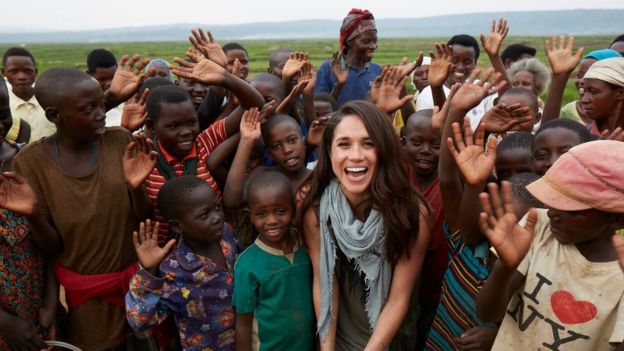 Personal Life
Markle was in a relationship with actor and producer Trevor Engelson between 2004 and 2013, they got married in  2011 and divorced in August 2013.
Since June 2016, she has been in a relationship with Prince Harry who is fifth in line to the British throne.
She reportedly met Prince Harry when she was in London to watch her friend Serena Williams play at Wimbledon in June 2016. They started dating soon after and made headlines post their announcement of the engagement.
Meghan Markle and Prince Harry got married on 19 May 2018 in St George's Chapel at Windsor Castle. The ceremony was attended by over 600 guests including Queen Elizabeth and other important members of the royal family.
Prince Harry And Meghan Markle Just Broke An Instagram Guinness World Record
They welcomed their son, Archie on the 6th of May 2019