Owner Of LandLagos, PorkMoney Glory Osei And Alleged Hubby Trending On Twitter Over Fraud And Maltreatment Of Workers
Popular Entrepreneur and feminist, Glory Osei is trending on Twitter for all the wrong reasons and here is why.
26-year-old Osei and her alleged husband, Muyiwa Folorunsho run LandLagos, Pork Money and Hyber Factory under the company name Divergent Enterprise Nigeria.
Osei was perceived by many to be single because of her views and opinions on feminism and staying woke.
The drama started in the early hours of Monday when an ex-employee of the company with the handle @therealAda_ called out the duo over acts of maltreatment of workers and employees.
See tweets below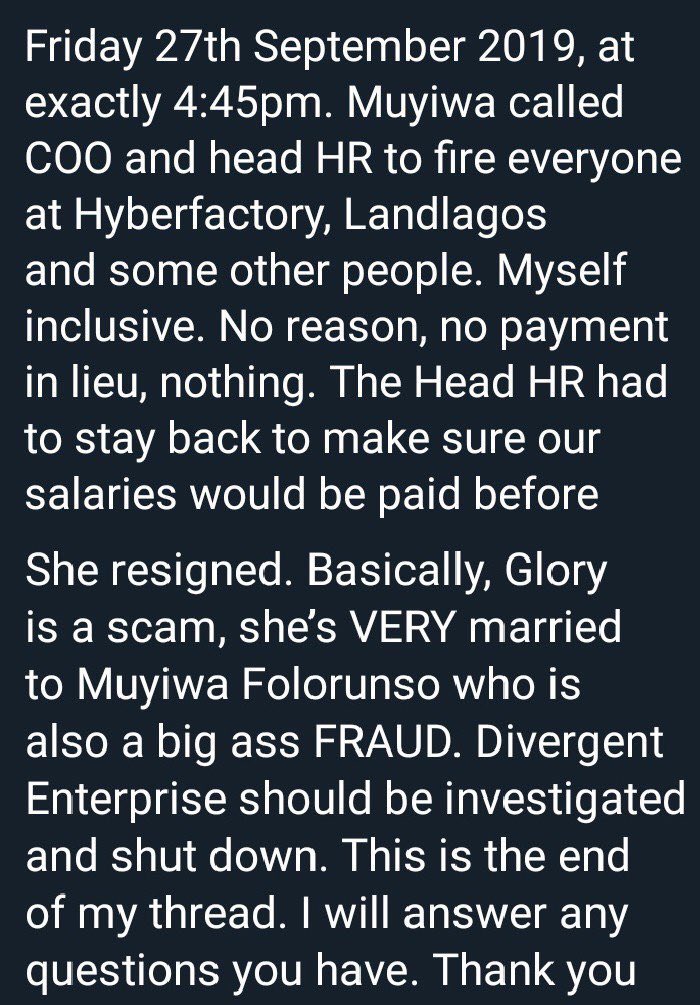 Other ex-workers with similar experiences have also reacted sharing their own experiences.
See tweets below
Remember when I got a Job Interview in 2017 then I decided to type the company name on Nairaland & Found out they were scam. They exposed Glory Osei & Muyiwa 5 years ago. If NairaLand says it's Scam, it is definitely Scam…

Nairaland: The Centre For Undiluted Truths

— King Nonny ? (@Zaddy_nomso) October 21, 2019

( Thread) A Letter from one of Glory Osei @glory_osei and Muyiwa Folorunsho victim

I happen to be a fresh graduate who was desperate to get a job and never wanted to stay at home. #NextLevelOfDoom #MondayMotivation
Muyiwa
Glory Osei pic.twitter.com/Kv5DJlwe6x

— Port Harcourt most handsome™ (Lagos most Adored) (@laurelchinedu2) October 21, 2019
Still shocked that Glory Osei is married ? That lady twitted every damn day as a Twitter single feminist. In this life ehhn, never swallow everything you see online you go just ruin your life las las.

— Beautiful-Onyinye (@Edoveey) October 21, 2019
"Glory Osei, why are you and Muyiwa scamming people?"

Glory Osei: pic.twitter.com/i4xvOsbriE

— Omoniyi Israel (@_omoissy) October 21, 2019
Glory Osei and Muyiwa have been exposed on Nairaland since nah. I have said it before that Nairaland should be our own Twitter and even more, but Seun is sleeping on it. There is no information you need that is not on there. Even FBI traced Invictus Obi using info from Nairaland.

— Wale Adetona (@iSlimfit) October 21, 2019
You employ workers,you won't pay their salaries on time,you fine them at any tiny chance you get so you won't pay them full salaries,you defraud people ,sack workers all the time without paying their salaries,Glory Osei and Muyiwa, those people's sweat and tears will haunt you!

— Oyindamola? (@dammiedammie35) October 21, 2019
Glory Osei will come on this app, tweet like a single feminist and how men are the worst creatures ever when she has a husband at home.

But Yemisi in Abule Egba will swallow everything Glory tweets hook, line and sinker because she doesn't have sense and a mind of her own.

— Mazi Olisaemeka C. ™ (@OlisaOsega) October 21, 2019
Glory Osei that used to bear @ nigerianabroad On instragram ,giving us travel contents and slaying different countries suddenly came back to Nigeria changed to @ gloryosei and re-branded to a corporate C.E.O

Na from there Una suppose don Dey suspect her sef .Eyan Invictus Obi ?

— Ewure Of Africa ? (@Dehkunle) October 20, 2019
Hehehehe so Glory Osei is a married woman but spits venomous tweets about men. Well thank God I've reached the stage of my life where what I read or see doesn't move me. I pity vulnerable girls they deceive here. ?

— Vera (@scarce_moon) October 21, 2019
Glory Osei's husband, Muyiwa Folorunso is on a World Tour on his IG. From Madrid, Spain to Italy to Amsterdam, The Netherlands to the UAE to Bali, Indonesia to Hong Kong, but he doesn't want to pay workers, so he fires them almost every month & gets new ones. You hate to see it.

— Isima (@IsimaOdeh) October 21, 2019
Glory Osei and Muyiwa Folorunso – They aspired to inspire, then decided to conspire and unlawfully hide & fire and now they will perspire because plans don backfire & they don acquire the documents whey dem go use enquire. The facades don expire and they are now in a quagmire. ?

— ? DaddyMo ? (@therealdaddymo1) October 21, 2019
Bruh! Glory Osei and Muyiwa Folorunsho did proper scam internship under Invictus Obi.

This one is Suit and Tie yahoo yahoo.

— King Iseunife ? (@TheShawnife) October 21, 2019